List of Railway Ministers of India (1947-2023) networthplaza.com
The Indian Railways, established on 6th May 1836, has grown into one of the largest and busiest railway networks globally. Indian Railway, under the Ministry of Railways, operates the world's fourth-largest railway system. The railway system is a crucial lifeline for the nation, connecting distant corners and facilitating the movement of millions of passengers and tons of freight every day. At the helm of this vast network, the Railway Minister of India plays a pivotal role in shaping policies, modernizing infrastructure and ensuring efficient transportation. This article delves into the history of Indian Railways through the lens of the various Railway Ministers who have led the charge from 1947 to 2023.
Railway Minister of India Before Independence
Before Independence, Asaf Ali served as the first Railway Minister of India from September 1946 to August 1947. Although India was still under British rule, Asaf Ali laid the groundbreaking for subsequent leaders in shaping the nation' railway system.
First Railway Minister of India
John Mathai, born on January 10, 1886, was appointed as the first Railway Minister of India in 1947 and later served as Finance Minister. An economist and CIE, he resigned in 1950, protesting against the growing influence of the Planning Commission. Mathai was the first Chairman of the State Bank of India and played key roles in education and economic research. The Dr. John Mathai Centre in Thrissur, Kerala, honors his legacy. Posthumously awarded the Padma Vibhushan in 1959, his contributions endure in India's economic landscape.
Current Railway Minister of India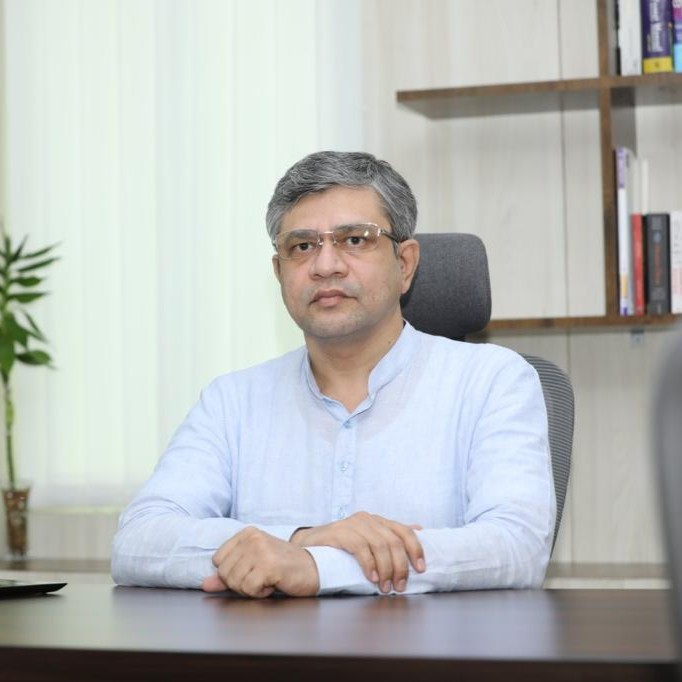 Ashwini Vaishnaw, born on 18th July 1970, is an Indian politician and former IAS officer. Currently serving as the 39th Minister of Railways, 55th Communications Minister and 2nd Electronics & Information Technology Minister in the Government of India since 2021, he is also a Bhartiya Janata Party member and represents Odisha in the Rajya Sabha since 2019. Vaishnaw, with a background in the Indian Administrative Service, commenced his political journey after joining the BJP.
List of Railway Ministers of India (1947-2023)
The first Railway Minister was John Mathai who assumed the position on 15th August 1947 and the current Railway Minister of India is Ashwini Vaishnaw, serving the position since 2021.
Here is the complete list of Railway Ministers of India (1947-2023):
| | | | | |
| --- | --- | --- | --- | --- |
| S. No. | Name | Tenure | Time Period | Party |
| 1. | John Mathai | 15 August 1947 – 22 September 1948 | 1 Year 38 Days | INC |
| 2. | N. Gopalaswami Ayyangar | 22 September 1947 – 13 May 1952 | 3 Years 234 Days | INC |
| 3. | Lal Bahadur Shastri | 13 May 1952 – 07 December 1956 | 4 Years 208 Days | INC |
| 4. | Jagjivan Ram | 07 December 1956 – 10 April 1962 | 5 Years 124 Days | INC |
| 5. | Swaran Singh | 10 April 1962 – 21 September 1963 | 1 Year 164 Days | INC |
| 6. | H.C. Dasappa | 21 September 1963 – 08 June 1964 | 261 Days | INC |
| 7. | S.K. Patil | 09 June 1964 – 12 March 1967 | 2 Years 276 Days | INC |
| 8. | C.M. Poonacha | 13 March 1967 – 14 February 1969 | 1 Year 338 Days | INC |
| 9. | Ram Subhag Singh | 14 February 1969- 04 November 1969 | 263 Days | INC |
| 10. | Panampilly Govinda Menon | 04 November 1969 – 18 February 1970 | 106 Days | INC |
| 11. | Gulzarilal Nanda | 18 February 1970 – 17 March 1971 | 1 Year 27 Days | INC |
| 12. | K. Hanumanthaiah | 18 March 1971 – 22 July 1972 | 1 Year 126 Days | INC |
| 13. | T.A. Pai | 23 July 1972 – 04 Feb. 1973 | 196 Days | INC |
| 14. | Lalit Narayan Tripathi | 05 Feb. 1973 – 02 Jan. 1975 | 1 Year 331 Days | INC |
| 15. | Kamalapati Tripathi | 11 Feb. 1975 – 23 March 1977 | 2 Years 40 Days | INC |
| 16. | Madhu Dandavate | 26 March 1977 – 28 July 1979 | 2 Year 124 Days | JP |
| 17. | T.A. Pai | 30 July 1979 – 14 Jan. 1980 | 168 Days | INC |
| 18. | Kamalapati Tripathi | 14 Jan. 1980 – 12 Nov. 1980 | 303 Days | INC |
| 19. | Kedar Pandey | 12 Nov. 1980 – 14 Jan. 1982 | 1 Year 63 Days | INC |
| 20. | Prakash Chandra Sethi | 15 Jan. 1982 – 02 Sep. 1982 | 230 Days | INC |
| 21. | A.B.A. Ghani Khan Choudhary | 02 Sep. 1982 – 31 Dec. 1984 | 2 Years 120 Days | INC |
| 22. | Bansi Lal | 31 Dec. 1984 – 24 June 1986 | 1 Year 175 Days | INC |
| 23. | Mohsina Kidwai | 24 June 1986 – 21 Oct. 1986 | 119 Days | INC |
| 24. | Madhavrao Scindia | 22 Oct. 1986 – 02 Dec. 1989 | 3 Years 41 Days | INC |
| 25. | George Fernandes | 02 Dec. 1989 – 10 Nov. 1990 | 343 Days | JD (NF) |
| 26. | Janeshwar Mishra | 21 Nov. 1990 – 21 June 1991 | 212 Days | SJP (R) |
| 27. | C.K. Jaffer Sharief | 21 June 1991 – 17 Oct. 1995 | 4 Years 118 Days | INC |
| 28. | Ram Vilas Paswan | 01 June 1996 – 19 March 1998 | 1 Year 291 Days | JD (UF) |
| 29. | Nitish Kumar | 19 March 1998 – 05 August 1999 | 1 Year 139 Days | SP |
| 30. | Ram Naik | 06 Aug. 1999 – 13 Oct. 1999 | 69 Days | BJP |
| 31. | Mamata Banerjee | 13 Oct. 1999 – 15 March 2001 | 1 Year 153 Days | AITC |
| 32. | Nitish Kumar | 20 March 2001 – 22 May 2004 | 3 Years 63 Days | JD (U) |
| 33. | Lalu Prasad Yadav | 22 May 2004 – 22 May 2009 | 5 Years | RJD |
| 34. | Mamata Banerjee | 22 May 2009 – 19 May 2011 | 1 Year 362 Days | AITC |
| 35. | Dinesh Trivedi | 12 July 2011 – 19 March 2012 | 251 Days | AITC |
| 36. | Mukul Roy | 20 March 2012 – 22 Sep. 2012 | 186 Days | AITC |
| 37. | C.P. Joshi | 22 Sep. 2012 – 28 Sep. 2012 | 36 Days | INC |
| 38. | Mallikarjun Kharge | 17 June 2013 – 26 May 2014 | 343 Days | INC |
| 39. | D.V. Sadananda Gowda | 26 May 2014 – 09 Nov. 2014 | 167 Days | BJP |
| 40. | Suresh Prabhu | 09 Nov. 2014 – 03 Sep. 2017 | 2 Years 298 Days | BJP |
| 41. | Piyush Goyal | 03 Sep. 2017 – 07 July 2021 | 3 Years 307 Days | BJP |
| 42. | Ashwini Vaishnaw | 07 July 2021 – Incumbent | – | BJP |
Find More General Studies News Here