Kevin Stott sacked: Kia Joorabchian's Amo Racing cut ties with retained jockey after just over six months | Racing News networthplaza.com
Jockey Kevin Stott has been told he will no longer be riding for Amo Racing – the ownership group run by football agent Kia Joorabchian.
Stott, who was only signed as Amo's retained rider in February this year, revealed the news on Monday morning, claiming he was sacked but has not been given a reason why.
Speaking to the Racing Post, Stott said: "I was informed this morning that I will no longer be riding for Amo Racing.
"It was obviously very disappointing news but a reason for the decision was not given to me, so there isn't a lot I can say.
"I do want to thank Kia and all the Amo trainers for the opportunities given to me this year.
"There have been some incredible moments, one of them being riding Amo's first Group One winner.
"What has happened is disappointing but I'm still looking forward to the rest of the year and beyond."
Joorabchian told Sun Racing: "I told Kevin thank you very much. This was a collective decision on and off the racetrack. We have decided not to renew his contract for next season. It was always a one-year contract.
"We have done everything that we promised, he (Stott) has done everything he promised and we have parted ways, nothing more than that.
"But you know, Kevin is not a young boy, he has experience. For reasons outside of racing, I have to decide what's best.
"I don't know what jockeys we'll use now, I'll leave it to the trainers to pick the best available."
Stott's most recent winner for Amo came aboard the Alice Haynes-trained Girl Magic on August 21.
There was disappointment for the team last weekend as both King Of Steel and Bucanero Fuerte were beaten in Ireland.
Stott had enjoyed some big-race success in Amo's purple colours, landing the Group One Phoenix Stakes with Bucanero Fuerte last month and claiming a Royal Ascot victory with King Of Steel in the King Edward VII Stakes.
'Kia is toying with young jockeys' careers'
Stott's dismissal comes almost exactly a year on from the termination of fellow young rider Rossa Ryan's contract as retained jockey with Amo.
Ryan was the first to publicly explain the situation in September 2022, claiming that the relationship had ended, before Joorabchian later stated the jockey's absence was due to an internal investigation.
Joorabchian then said Ryan had wanted to "explore wider pastures" as the pair seemingly parted ways in amicable fashion.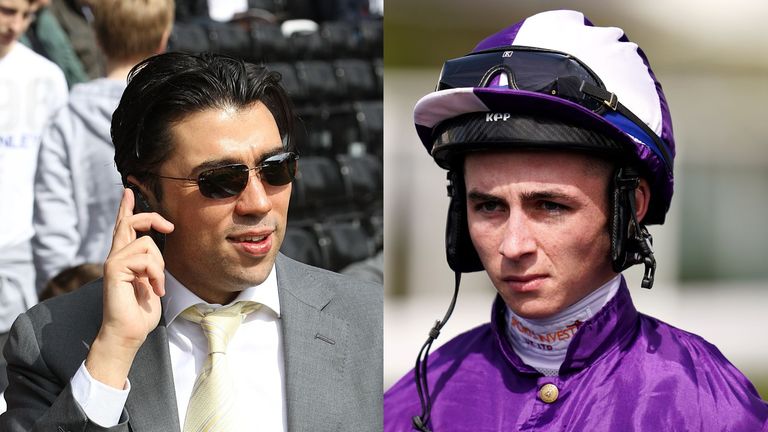 Speaking about his relationship with riders, Joorabchian told The Sun: "I've never had a problem with jockeys. I never fell out with Rossa (Ryan), I love him more than anybody, he rode at Royal Ascot for me.
"He was my only retained jockey, he needed to go out on his own and get experience. I have supported him and he is thriving."
Reacting to the news of Stott's dismissal, Sky Sports Racing's Declan Rix said: "Kia Joorabchian is fast becoming one of the most unlikable owners in the game. Toying with young jockeys' careers, putting huge pressure on them and then throwing his toys out the pram when things don't go right.
"Sacking Stott over a text message says it all (if true)."
Meanwhile, trainer Fergal O'Brien simply tweeted: "Poisoned chalice."