Keith Pelley 'optimistic' of deal between PGA Tour, DP World Tour and PIF being finalised | Golf News networthplaza.com
The Framework Agreement between the PGA Tour, DP World Tour and Saudi Arabia's Public Investment Fund (PIF) is due to be finalised by the end of the year; Keith Pelley provided an update during the DP World Tour Championship
Last Updated: 18/11/23 2:46pm
DP World Tour chief executive Keith Pelley believes golf's main tours are more motivated than ever to lock in a definitive agreement with Saudi Arabia's PIF (Public Investment Fund) before next month's deadline.
A shock deal between the PIF – who bankroll LIV Golf – the PGA Tour and DP World Tour was announced on June 6, with an initial deadline of December 31 set to finalise the details of the partnership.
The deadline could pass before a definitive deal, which would aim to unify the sport, is agreed, with Pelley confirming that talks have been ongoing to try and find a resolution for the sport.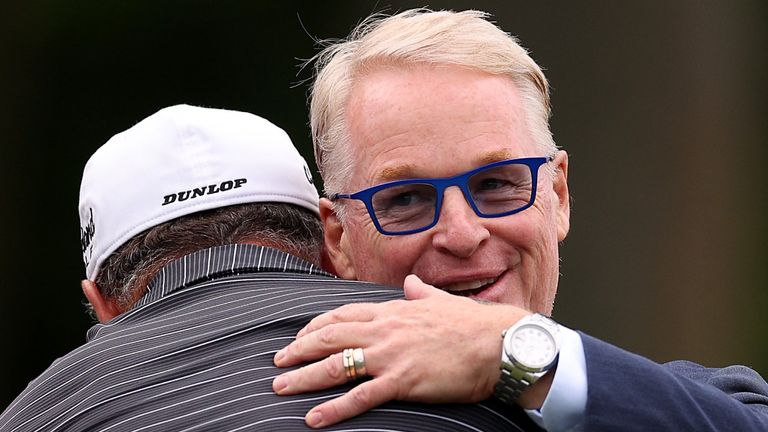 "I think everyone understands and everyone respects some of the reasons, I don't need to go into them, that for the past four or five months it hasn't moved as quickly as we would have hoped after signing on June 6 in San Francisco," Pelley told Sky Sports at the DP World Tour Championship.
"I said to a number of journalists a couple of weeks ago that I thought things would heat up and conversations would intensify after the Ryder Cup in Rome and that is exactly what has happened.
"The conversations are confidential in nature, so I can't really go into the details of it, but I do believe that all three parties are in the exact same position that they we were in June.
"I think we're more motivated now to do a deal, and that's of course the PIF [Public Investment Fund], the PGA Tour and ourselves, to try to take the framework to the next step, to sign a definitive agreement which unifies the game, which I believe is in the best interests of global golf.
"I'm optimistic that we can move these conversations on in the next month."
What could happen next?
The PGA Tour is also understood to be assessing potential funding from alternative private equity sources, with Fenway Sports Group – owners of Liverpool and the Boston Red Sox – reported to be one of the interested parties.
Rory McIlroy, who is one of the PGA Tour's player directors, knows better than most what is happening behind the scenes, but acknowledged any deal with the PIF would need to be approved by the United States government.
"I think if you were in the middle of it, you would see that there's a path forward," McIlroy said in his press conference ahead of the DP World Tour Championship. "It's just that no one on the outside has any details, right. Loose lips sink ships, so we are trying to keep it tight and within walls.
"I'm sure when there's news to tell, it will be told. I think getting something done sooner rather than later is a good thing. Because you know, even if we get a deal done, it doesn't mean that it's actually going to happen.
"That's up to the United States government at that point and whether the Department of Justice think that it's the right thing to do or whether [it's] anti-competitive or whatever. Even if a deal does get done, it's not a sure thing. So yeah, we are just going to have to wait and see."
Watch the PGA Tour and DP World Tour live every week on Sky Sports. Stream the PGA Tour, DP World Tour, LPGA Tour and more with NOW.