Hungarian GP: Frederic Vasseur says Ferrari 'made too many mistakes' in Budapest as Carlos Sainz criticises car networthplaza.com
Ferrari struggled with race pace once again in Budapest as Charles Leclerc finished seventh and Carlos Sainz was eighth; the team have had just two podiums in F1 2023; watch the Belgian GP from Spa-Francorchamps live on Sky Sports F1 from July 28-30
Last Updated: 23/07/23 7:44pm
Frederic Vasseur admits Ferrari "made too many mistakes" at the Hungarian Grand Prix after they failed to challenge the podium positions for a second consecutive race.
Charles Leclerc finished seventh and Carlos Sainz eighth on Sunday in Budapest, which follows the British Grand Prix where the pair took the final two points-paying positions.
Leclerc's performance was hampered by a slow first pit stop and a five-second time penalty for speeding in the pit lane, which cost him a position to George Russell.
"First we will need time to understand what we did right and wrong because the format was different and it's not so easy to analyse the perfect weekend and you need to get all the results to be able to do a reliable engineering on this," explained Vasseur.
"But I think on our side it's much more the fact that we made too many mistakes from the beginning to the end. It's not just about the pit stop or the pit entry or the Qualy yesterday or the management of the tyres, at the end the potential was probably better than what we showed yesterday, and then, at least with Charles, we lost 20 seconds on the race."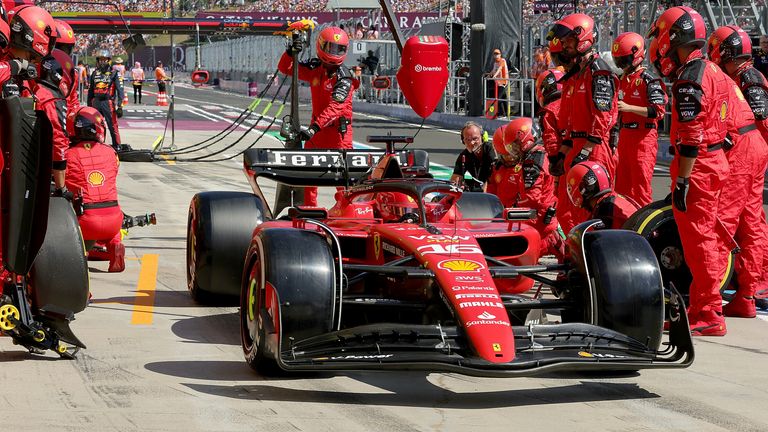 He added: "I spent the last 35 years of my life on the pit wall and every single Monday of my career we go through a list of mistakes. The job of the team principal is to do the list with the team members and to fix it.
"I'm very open with you to say we are doing too many mistakes. I think it's true that if you ask the same question to Toto [Wolff] he will say the same."
Sainz: Not where we want to be in terms of everything
Ferrari are fourth in the constructors' championship, 17 points behind Aston Martin ahead of the Belgian Grand Prix – live on Sky Sports F1 from July 28-30.
Leclerc and Sainz ran closely for most of the race but the Spaniard in particular dropped off towards the end of the Grand Prix and was easily overtaken by Russell.
"It's clear that right now we are not where we want to be in terms of race pace, in terms of everything really – tyre deg, pace, even one-lap this weekend hasn't been our strength either," Sainz told Sky Sports F1.
"So clearly some homework to do to understand why at a track where we expected maybe to be a bit stronger than we were, we were not. And I'm sure we'll try to make a step in Spa in understand, and if not, we will take the summer break to analyse everything and put together a better package for the other half.
"It is what it is. I don't care about Charles, or seventh or eighth. I just care about Russell being 1.5s quicker at the end of his stint."
Leclerc added: "The first and third stint honestly wasn't too bad, I think the second stint – I had a very slow stop unfortunately, so I had to push to overtake Lance. Then Carlos and I were together, and then we struggled a bit more. All in all, still far from where we want to be.
"The radio was so bad that I don't think my team was understanding me. There was a lot of problems with the radio. All in all it was a difficult race… but again we are very far off. I think P5 was possible in front of Oscar and George today, but I also did a mistake with the speed limiter, so it's like this."
Next up is the Belgian GP, the final race before F1's summer break – watch all sessions of the Sprint weekend live on Sky Sports F1 from July 28-30. Stream the Belgian GP and more with NOW for £21 a month.