Germany Women 6 – 0 Morocco Women networthplaza.com
Germany put an imperfect build up to this summer's World Cup behind them by overawing debutants Morocco in their opening Group H game, running out 6-0 winners.
The two-time world champions lost two of their three warm-up games to nations significantly lower in the FIFA rankings, but allayed any fears of such form carrying into the tournament with a compelling performance to dispatch the North Africans.
Morocco, ranked 72nd in the world, are the first Arab team to compete at a World Cup finals, but the gulf in experience was exposed early by Germany captain Alexandra Popp – playing at her fourth edition of the tournament.
Kathrin Hendrich scampered down the right flank in the 11th minute, dinking a cross towards the head of Popp, who powered her effort beyond stranded goalkeeper Khadija Er-Rmichi.
The 32-year-old was on target once more before the break, stooping to nod Klara Buhl's corner home, while Sara Dabritz saw her low drive ruled out after straying marginally offside in the preamble.
A sprinkling of tournament underdogs had begun initiating an uprising of sorts in this opening week of group-stage fixtures, but it wasn't to be for Morocco, as Buhl struck within the first minute of the restart, before a pair of own goals ensured matters transitioned from bad to worse in a game dominated by the European runners-up.
Gulf in quality narrowing?
Jamaica's 0-0 draw with one of the tournament favourites France on Sunday was the latest evidence the gap is closing in women's international football.
New Zealand also beat Norway 1-0 in the tournament's opening game – with 14 places separating the two sides in official FIFA rankings.
Moroccan misery was then compounded by substitute Lea Schuller, who rounded off a ruthless attacking display in the 90th minute.
How Germany secured statement win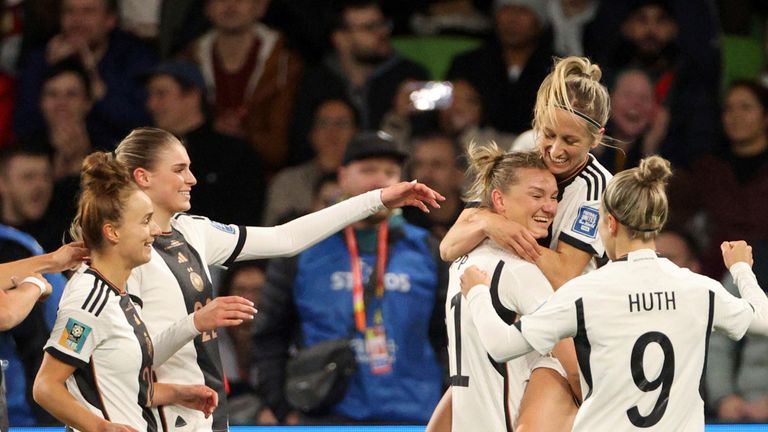 Seven months after the Moroccan men's fairytale run to the World Cup semi-finals in Qatar, the Atlas Lionesses set about making history at the women's showpiece event, but were met by particularly fierce opposition in their opening encounter.
Machine-like Germany, grouped among the tournament favourites, showed little mercy to the World Cup first-timers.
It was a mis-match from the off, with talismanic Popp demonstrating her usual ruthless efficiency by scoring a headed brace inside 39 minutes as Germany assumed Group H's top spot ahead of Colombia and South Korea's meeting in Sydney on Tuesday.
Cracks in Morocco's game plan continued to surface after the interval, with Buhl taking only 23 seconds to swoop on a poor clearance and rifle a low strike into the right corner.
The occasion continued to get away from Reynald Pedros' side as defender Hanane Ait El Haj put the ball into her own net less than 10 minutes later, before Yasmin Mrabet suffered the same fate attempting to clear off her goal-line.
Lea Schueller completed the rout in the 90th minute, smashing in the sixth after Lena Lattwein's attempt pinged fortuitously off the goalkeeper.
What's next?
Group H returns on Saturday July 30. Germany take on Colombia while Morocco play South Korea.
The final group games will take place on Thursday August 3. Germany will face South Korea, while Morocco take on Colombia.
What is the schedule?
The group stage has begun and runs over a two-week period finishing on August 3. Group winners and runners-up progress to the round of 16, which takes place from August 5 to August 8.
The quarter-finals, which will be held in Wellington, Auckland, Brisbane and Sydney, are scheduled for August 11 and 12.
The first semi-final will then be played on August 15 in Auckland, with the other semi-final taking place on August 16 at the Accor Stadium in Sydney, which will then host the final on August 20.
A third-place play-off will be played the day before the final on August 19 in Brisbane.