Europe's voice of the NFL: How American Forces Network host Ken Allan helped deliver football to the world from Frankfurt | NFL News networthplaza.com
Meet Ken Allan, one of the original voices of the NFL in Europe. At least to some of you.
For younger generations, it is a name that may not resonate. For older generations, it is a name that may nestle at the heart of their footballing and US sporting fandom, even if they don't realise it.
Long before Sky Sports NFL, long before no-stone-unturned television coverage in general, the American Forces Network (AFN) radio station represented the solitary destination for football commentary across Europe. Wanted play-by-play updates of Sunday's action or the Super Bowl? You might press your ear to a scuffled radio to listen to Ken Allan call the shots.
"At one time we had over a million listeners worldwide because we were the only show in town," former AFN broadcaster Allan, who now resides in California, tells Sky Sports NFL.
"If you wanted to listen to a Major League Baseball game or NFL game, you had to listen to the American Forces Network and hope that they were going to broadcast the game you're interested in."
AFN was launched with a view to broadcasting to US soldiers out of London from 1943 during World War II, eventually setting up stations across France as the allies marched forward before later establishing its European headquarters in Frankfurt following the war.
The first broadcast out of AFN Frankfurt, in fact, came on July 15, 1945 from a confiscated house. By the '60s thousands of US troops remained situated in Germany – enter, Ken Allen.
Jump forward to November 2023, the NFL is back in one of its most poignant homes from home as it stages successive regular season games at Deutsche Bank Park. It poses as a city entrenched with footballing nostalgia, from Allan's job of delivering the latest NFL news to the world, to the history of the Frankfurt Galaxy as a stalwart of the World League of American Football/NFL Europe.
"I graduated from San Jose State University with a degree in radio and TV broadcasting, and then I joined the army and was assigned to the American Forces Network in Germany in Frankfurt as a sports broadcaster," recalls Allan. "I did that from October 1966 until January 1969. In fact, I left Germany the day after the New York Jets and Joe Namath beat the Baltimore Colts in Super Bowl III.
"After I left Germany I heard they were looking for a civilian broadcaster with AFN in Washington, so I applied for the job and since they knew me from Frankfurt I got that job. I was out of the army in January and then joined AFN as a civilian in August 1969, and I was with them for 42 years."
One fan tells Sky Sports of how Spanish opera would interfere with the AFN frequency at the time of a vital field goal attempt. Another listened to Dwight Clark's iconic 'The Catch' during the 1981 NFC Championship Game on AFN, while another remembers Bill King's famous "Holy Toledo!" during Warren Moon's first NFL game for the Houston Oilers against the Los Angeles Raiders in 1984. AFN would pose as something of a catalyst for the NFL's European eruption, leaving its mark on Allan in the process.
"I think at the time I was the only guy on the sports staff who had play-by-play experience before I came to the army," continued Allen. "We went up to London to broadcast this GI Super Bowl between the Air Force and the Army. It was at the time that Michigan State and Notre Dame had that famous 10-10 tied game in the 1966 college season and there was a tremendous amount of interest. We were up in London and I remember that we got a couple of six packs of beverages, as it were, and listened to the game on a car radio – coming from Frankfurt!
"The biggest signal in the United States was 50,000 Watts clear channel, our signal in Frankfurt was 150,000 Watts, three times the power, and clear channel, so you could hear from Frankfurt all over Europe.
"I don't ever think of it as being in the Army, so to speak. I was just very, very fortunate. And my wife was with me, our oldest daughter Kelly was born there in 1968. It was a very enjoyable experience, we had marvellous people and we have a reunion with about maybe 15 of us every three or four years and we just have a terrific time. Just a great bunch of people."
While Ken was assigned to AFN, his brothers also served in the forces: Dave was a member of the military police in Bremerhaven, West Germany, Doug was a helicopter door gunner/crew chief during the first of two Vietnam tours, Phil drove an armoured personnel carrier during one tour of Vietnam and Marc was assigned to West Berlin.
He would be among the last people in the AFN building at the end of each day to provide a final wrap on the latest sports news, before dashing for the Straßenbahn to get to his apartment around a block-and-a-half away in the city.
"It was a wonderful group of people to work with because all the military guys were in the same boat, I kid people and I say when I was in Frankfurt I was as far away from Vietnam as I could get," Allan adds.
"I remember that as a broadcaster in Frankfurt we broadcast the European Little League Championship Game one time, and somehow I was able to talk them into broadcasting so they sent me and an engineer up to Munich.
"I also remember we did the Karl Mildenberger fight when he fought in his eliminator after Muhammad Ali was suspended for refusing to join the draft."
The Network had been due to broadcast from the Nürburgring motorsports complex for the German Grand Prix one day, only for the trip to be cancelled after a last-minute change of plans. Desperate to ensure the station covered it, Allan and his colleagues decided to use the Weekend World live coverage while offering input from himself in a studio at the other end of the AFN corridor.
"We were very careful not to say we were broadcasting from the Nürburgring, but we pulled it off!" he laughs.
"Then on Monday morning somebody said 'Ken, the Sergeant Major wants to talk to you' and he said 'don't do that again'."
Allan, now 82, hops excitedly from tale to tale as the stories continue to come back to him. He casts his mind back to a time covering the league's Washington franchise, at which point future Super Bowl champion quarterback Joe Theismann was striving to make his way as back-up to both Sonny Jurgensen and Billy Kilmer.
"All three of their lockers were right next to each other, but all of the media wanted to talk to Sonny or Billy, they were all crowded around their lockers and Joe didn't even have any room to dress," he explains.
"I told him 'Hang in there, Joe, one of these days all of this will be yours!' and he kind of laughed about it."
Years later, Theismann would guide Washington to victory over Don Shula's Miami Dolphins at Super Bowl XVII at the Rose Bowl in Pasadena, California in 1983.
"Joe was there and I got in touch with him," Allan continues. "I said Joe 'Ken Allan, American Forces Radio, do you remember me from Washington?'. And he kind of had a quizzical look on his face.
"I'm the guy who was next to your locker and said 'Hang in there, this will all be yours!', and then he had a big smile on his face and replied 'I do remember that!'.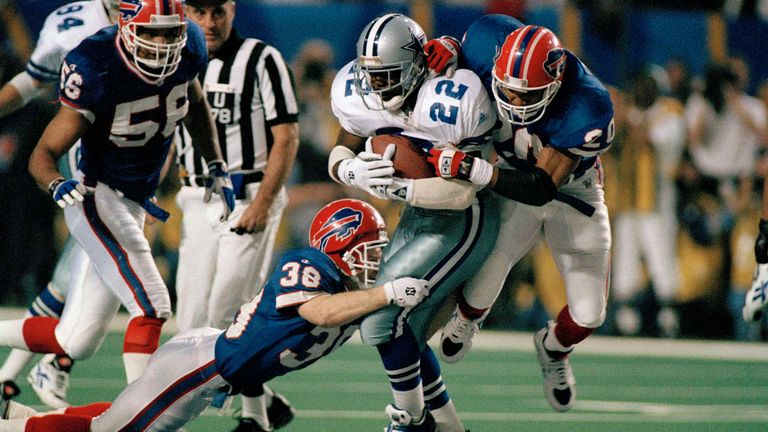 Allan jumps to a memory from Super Bowl 27 in 1993, when Jimmy Johnson's Dallas Cowboys defeated the Buffalo Bills 52-17. It was there where he experienced a frosty exchange with Dallas owner Jerry Jones, who, without explanation, openly blanked Allan's question during a pre-game press conference.
"I thought 'what is all that about?', I don't really remember the question I asked."
Cue more stories.
On another occasion Allan was transported via helicopter down to Kaiserslautern in south west Germany to broadcast a Championship Baseball Game between the Army and Air Force. The flight visibility had been severely impaired such was the heavy run, Allan joking how he hoped there was nobody else flying in the other direction.
Upon landing they were greeted by an unplayable surface. Not unplayable for long, though.
"The field was all wet, but somehow they got several cans of gasoline and poured it all over the place, lit it up and then brought the helicopter in to fan the flames. And by golly they got that game played."
Frankfurt holds a special place in the life of Allan. He spent time there with his college sweetheart wife of 56 years, who sadly passed away two years ago, and it was there where one of his two daughters was brought into the world.
He had been among the first to operate out of AFN's new building next to Hessischen Rundfunks – the state of Hesse's public broadcasting corporation – upon his arrival, with the station having previously been based at Von Brüning Castle for 20 years. What's more, his time with AFN coincided in part with that of Bob Harlan, who served as the long-time programme director in Frankfurt; Harlan is notably the father to NFL announcer Kevin Harlan and grandfather to Sky Sports NFL's Olivia Harlan Dekker.
"I think everything was a lot slower," Allan says of his time in Frankfurt. "It felt more relaxed than California. The city was stunning, frankly.
"Now I'm talking about it, I remember something else that happened there. There was going to be a demonstration for some reason outside of our studios, and on the weekends we would have two enlisted men on who were in charge of quarters.
"This demonstration was going to be like Saturday so they added another guy and had three people who would be walking around checking everything. Somebody that night somehow got into the building, went up to the third floor and stole the safe from the AFN club, hauled it out the back door, cut a hole in the chain link fence and hauled it out.
"That was presumably the worst time they could have done it! Frankfurt was quite the experience."
When Allan first arrived in Frankfurt the station would tape the games due to the time difference, believing few would listen to a baseball or football game at 2am in the middle of the night. How times have changed with nocturnal US sports-viewing routines outside of the United States.
Frankfurt became the springboard for a radio career brimming with memories, from both on location at Super Bowls and from within his own studio.
While featuring among the voices that helped spread football across Europe, Allan also became a voice of comfort to the American troops who were yet to depart Germany.
"If AFN were carrying a Dodgers game in Frankfurt you were excited because you were going to hear Vin Scully. If you were in New York you were going to hear Phil Rizzuto broadcast the game," he says.
"And it's the same thing in football. You get attached to that and especially if you're an American it really means a lot to you because it's a touch of home.
"I think that was very important. And as far as my experience was concerned, I was the same as anybody else, I really enjoyed listening to Van Patrick, he did the Detroit Lions games for years and he was so good."
Allan's parents were travelling around the Caribbean on a cruise ship one day when Ken's father, during a commercial break on AFN, suggested to his wife that the broadcaster's voice sounded familiar.
"It should sound familiar! That's your son," she replied.
As the Indianapolis Colts prepare to take on the New England Patriots this weekend, Allan's voice will continue to hold a sense of familiarity to many having led the surge of football across the world directly from Frankfurt.
Watch the Patriots against the Colts live on Sky Sports NFL this Sunday, with build-up from 1.30pm ahead of kickoff at 2.30pm.