Cricket World Cup final: Virat Kohli breaks Sachin Tendulkar record – now for the crowning glory? | Cricket News networthplaza.com
When it comes to one-day international hundreds, the modern master has eclipsed the Little Master.
Virat Kohli scored his 50th ODI ton on Wednesday, in the Cricket World Cup semi-final against New Zealand, in front of the man he was previously level with on 49 in Sachin Tendulkar.
It was a remarkable personal milestone for Kohli but on Sunday there is a greater team one up for grabs, the World Cup trophy, which he will be looking to win for a second time and first in 12 years.
The most important thing for me is to make my team win. I will do whatever it takes to do that: running singles, twos, hitting boundaries. I am trying to bat deep, bat long so the others can play around me. I play for my team at all times.
Kohli carried Tendulkar around Wankhede Stadium in 2011 after a win over Sri Lanka secured India a World Cup victory on home soil. "He [Tendulkar] has carried the burden of the nation for 21 years. It is time we carried him on our shoulders," Kohli said at the time.
There could be similar scenes at Narendra Modi Stadium in Ahmedabad this weekend if India triumph on their own patch once again – but with Kohli going from the carrier to the carried.
Victory over Australia will surely be King Kohli's crowning glory.
He played his part in the 2011 success, of course, hitting his first World Cup century against Bangladesh, a fifty against West Indies and then chipping in with 35 in the final.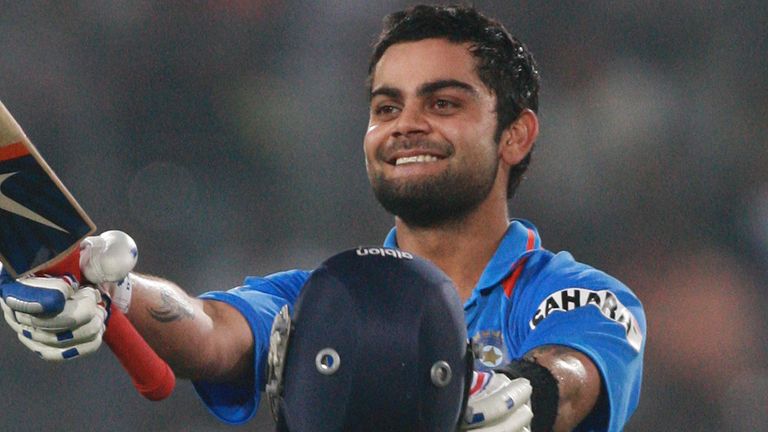 Back then he was still largely in his infancy as an ODI player, entering the tournament with four hundreds in 45 games at an average of 46.44. Good stats but not the stunning ones he now holds.
Twelve years on, he came into this World Cup with 47 hundreds in 281 games at an average of 57.38, and as the premier batter in the format. He has only added to his aura in the six weeks since.
Kohli moved one ton shy of Tendulkar when he made 103 against Bangladesh, matched him when he struck 101 against South Africa and then surpassed him when he scored 117 against New Zealand.
The 35-year-old now stands alone with the highest number of one-day international centuries as well as the best batting average by anyone to have played over 50 games (58.69).
Kohli scored his 50th ODI hundred in front of Sachin Tendulkar, the man he was previously level with on 49

In run chases, no one comes close. His average of 65.49 batting second is seven more than any other player, with his 27 hundreds in chases 10 more than nearest challenger Tendulkar.
Kohli has trumped Tendulkar stats-wise and now taken his role in the India team as the man who all eyes are on, who carries the burden of the nation.
Sky Sports Cricket's Nasser Hussain said of Kohli: "He is doing unbelievable things. He is a run-machine but he does it with flair, style and a bit of arrogance. I'm Virat Kohli and I am in your face!
"He makes sacrifices. All the work we don't see in the gym – he is as fit as anybody – but also giving away his personal time and space.
"He can't go out. Not because he doesn't want to but because he can't, just with the amount of people who want to see him. It's a very insular life."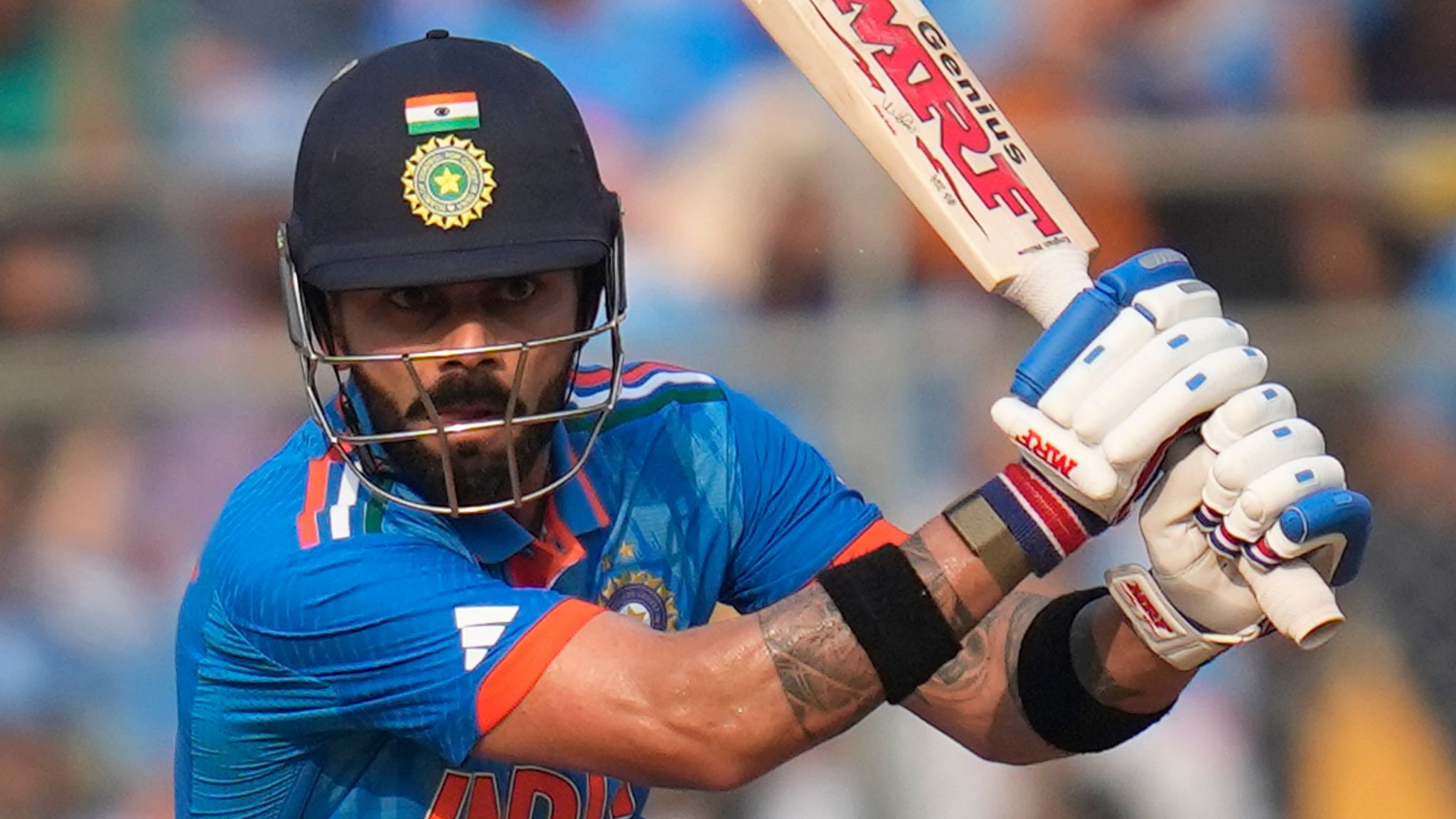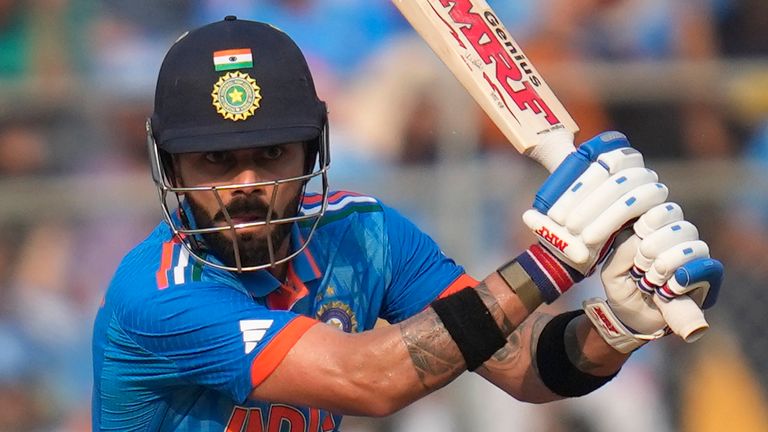 People like comparisons. I am never going to be as good as him, there's a reason we all looked up at him. He is perfection with batting. He's always going to be my hero regardless.
If Kohli is the 2023 Tendulkar, then Rohit Sharma is perhaps the 2023 MS Dhoni. The cool, calm skipper taking India to glory amid the pressure of fan expectation.
It was Dhoni who hit an unbeaten 91 in the 2011 final against Sri Lanka and it was current captain Rohit's tone-setting knock against New Zealand that saw India on their way to a first final since.
Gone was the timid cricket of previous knockout games that India had lost, such as the 2019 World Cup semi-final against New Zealand and 2022 T20 World Cup semi-final against England, with Rohit plundering 47 from 29 balls up top, leaving no doubt as to how he wanted his team to play.
Hussain added: "The genuine hero of this Indian side, the man who has changed the culture, is Rohit.
"It's one thing [being aggressive in the group stage] but can you play fearless cricket in a semi-final? The skipper showed his dressing room, showed everyone, they're carrying on exactly the same way."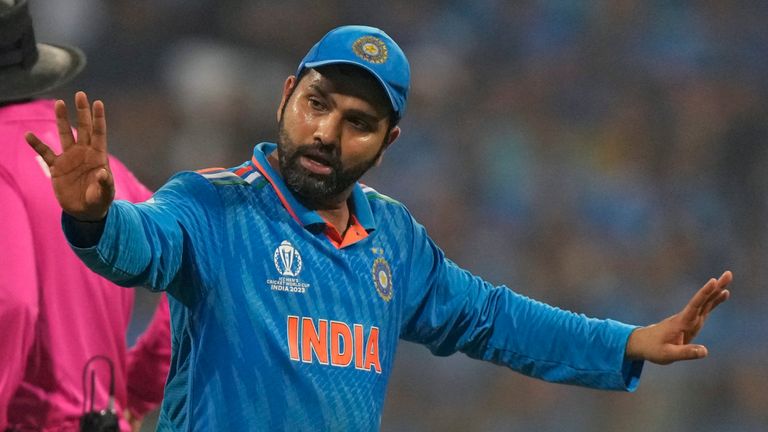 There is a final hurdle for India to overcome and it is a formidable one – five-time champions Australia, who since beginning their tournament with successive defeats, including to India, have reeled off eight victories in a row to reach an eighth World Cup final.
But the host nation are the favourites, with Rohit in charge and Kohli, as ever, the headline act. It might not just be the trophy India are holding aloft on Sunday night, it could be King Kohli, too.
Watch the Cricket World Cup final between India and Australia live on Sky Sports Cricket from 7.30am on Sunday (8.30am first ball). Hindi coverage starts at 8.20am on Sky Sports Mix.
Stream the final and more top sport, including the Las Vegas Grand Prix, without a contract through NOW.